This was a good year for me, at least fun-wise! Here are a few highlights. Click on any heading to see the original post.
A wonderful weekend of journaling classes with Donna Downey mid-January:
Won a Becky Shander original art piece:
Was thrilled to attend French General's Art of Craft event in LA at the end of January where I met my on-line friend Terry in person!
Attended Paper Cowgirl in Waxahachie, TX in March with several good friends: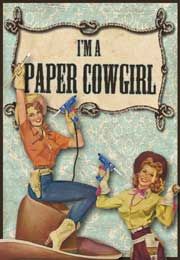 Shared a booth with friends at Pistol Annie's Vintage and Craft Show in April:
Finally took the plunge in June - after years of dithering - and painted our living/dining and hallway blue:
Won a fabulous rug in June from Annie Selke's Fresh American blog giveaway:
In August, Dina Wakely was in town for a few classes:
Participated in LOTS of swaps, including a Breakfast at Tiffany's fabric book swap
hosted by Laurie Jackson at
Indulge Your Shelf
:
Other swaps this year included a bracelet swap at Paper Cowgirl, Something Special's Petite Spring Jar Swap, Paper Cowgirl's Summer Travel Postcard Swap, a one-on-one swap with Terry, and three swaps organized by Creative Wings Boutique - the Prize Ribbon Swap, the Very Merry UnBirthday Cake swap, and the Twelve Days of Christmas Matchbox Ornament Swap.
I took several classes taught by the very talented ladies at two local paper arts shops, and a mini-workshop organized by my friend Chris. In June I celebrated my 100th sale on Etsy, but failed to blog about my 250th sale earlier this month! I received some wonderful gifts from blogging friends this year, including this most amazing
fabric book from Laurie
:
A memorable year for sure! I'm looking forward to the new year, and wish you all a happy, healthy and art-filled 2013!